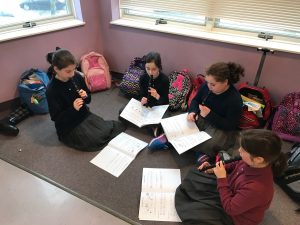 In February 2017, RUACH introduced its new recorder method book, entitled "Recorders Play Jewish Music," to schools around Milwaukee.  Developed by Mrs. Marty Fox (Founder and Director of Arts and Enrichment at Ohr Eliyahu Yeshiva Day School in Los Angeles) in conjunction with RUACH,  the book features Jewish music along with thoughts from Torah sources.  The program consisted of both curricular and after school classes.  Students learned recorder method, as well as music theory and fun, rhythmic exercises. The schools involved in the program were ALBA, Bader Hillel Academy, and Yeshiva Elementary School.
Mrs. Fox visited Milwaukee in late February.  She helped introduce the program to the students and provided workshops for teachers.  In March, RUACH flew in world-renowned recorder artist, Mrs. Nina Stern. Mrs. Stern led workshops with each class in recorder technique and percussion.  She introduced students to a new song and together they created a music ensemble. Using techniques learned from Mrs. Fox and Mrs. Stern, along with RUACH's method book, our music teachers worked with students creating a fun, interactive music program.
This program was made possible through generous contributions from Potawatomi Hotel & Casino's Heart of Canal Street program, the National Endowment for the Arts, and Bader Philanthropies.
For more information on RUACH's recorder method book, please contact RUACH Executive Director Joshua Richman at 414-367-4891.