Preface
RUACH was started in 2004 with the assistance of Congregation Beth Jehudah and The Helen Bader Foundation (now Bader Philanthropies).  RUACH received its independent Section 501(c)(3) nonprofit status in March 2006.
During its thirteen years of existence, RUACH ('spirit,' 'wind,' or 'breath' in Hebrew) has grown to provide creative arts opportunities, set against a Jewish backdrop, to diverse Greater Milwaukee residents.  Over time, RUACH has extended its impact to include music, visual arts, dance, creative writing, and theater programming for a variety of Jewish and at-large constituencies, particularly economically and ethnically underserved populations, including youth and the elderly.  With assistance from diverse funders, RUACH has become a collaborative organization, partnering with many local organizations and artists at venues such as schools, assisted living facilities, community centers, and arts facilities.
History
The Beginning
Returning to Milwaukee following music study at Yale and Judaic study in Israel, RUACH Founder Joshua Richman was the coordinator of the highly successful, Harry and Rose Samson Family JCC-sponsored "A Season of Jewish Music in Milwaukee."  Josh's conception of RUACH emerged in part from this combination of concerts and educational programs throughout the Jewish community, including such locations as day schools and assisted living centers.  Josh also envisioned a visual arts component in RUACH's offerings.
With encouragement from grants from The Helen Bader Foundation and the Jewish Community Foundation of the Milwaukee Jewish Federation and its component funds, as well as volunteer supporters, Josh moved forward with RUACH's design and implementation.  From its inception, RUACH's vision has incorporated the offering of arts opportunities to underserved populations within Milwaukee's Jewish and at-large communities.
During its first several years, RUACH focused on students from Yeshiva Elementary School (YES) and Hillel Academy; the elderly and the infirm, including residents of the Jewish Home and Care Center (now Ovation Communities) and its affiliated facilities; and the population from the former Soviet Union, particularly its elderly.
RUACH's impact has been particularly felt over the years at YES, where arts and music classes were frequently not available or accessible.  Especially during RUACH's early years, when RUACH focused most of its efforts at YES, many of the school's students were eager participants in RUACH's highly subsidized arts activities, which included: private instrumental music lessons, general music classes, visual arts programs, creative movement classes, concerts, and choral experiences.  The private instrumental music lessons continued to be provided in collaboration with the Wisconsin Conservatory of Music, through the end of Summer 2012.
Growing and expanding outward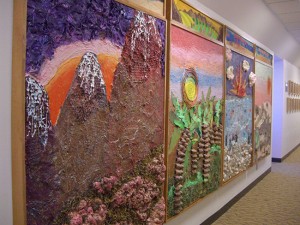 Visual arts instruction was initially started at YES but has expanded, starting in 2007, to include a series of more varied visual arts residencies in partnership with a significant number of organizations and schools.  A diverse group of organizations, extending into Milwaukee's at-large community, participated in RUACH's latest residencies, Project: Positive Speech and Project: VITAL (Values In The Arts & Life).
The visual arts residencies have been funded by five substantial grants from the Greater Milwaukee Foundation's Mary L. Nohl Fund, as well as grants from The Helen Bader Foundation (now Bader Philanthropies), the Jewish Community Foundation of the Milwaukee Jewish Federation, and others.  Among the highlights of these residencies was the creation of four brilliant mural panels now housed at the Harry and Rose Samson Family Jewish Community Center, under the umbrella of RUACH and the Coalition for Jewish Learning, by students from five Milwaukee Jewish day schools.
Another major RUACH initiative that grew over time has been the coordination and sponsorship of music residencies and concerts throughout the Jewish community, such as visits to Milwaukee by Israel's King David String Ensemble and Artists and Musicians for Israel (including the rock-and-soul group Reva l'Sheva); trombonist Megumi Kanda, violinist Jeanyi Kim, and pianist Elena Abend; an ensemble of professional musicians performing an interpretation of Stravinsky's 'The Soldier's Tale;' the Israeli ensemble, Simply Tsfat; the Philomusica Quartet; violin virtuosi, Frank Almond, Alexander Shonert, and Robert Davidovici; recorder virtuoso Nina Stern, clarinetist Toddy Levy, and percussionist Glen Velez; and instrumentalist Joey Weisenberg and his trio.  RUACH's creative movement programs, led by Kate Mann, have included successful Nia classes for adult women at Gilda's Club–Southeastern Wisconsin and Lake Park Synagogue, as well as classes for youngsters at YES.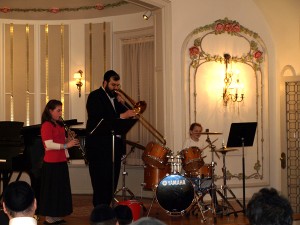 RUACH's 2010-2011 season included a broadening of RUACH's efforts to reach out into Greater Milwaukee, including the Creative Arts in the Community Initiative, funded in part by a grant from the Wisconsin Arts Board and The Helen Bader Foundation and led by Project Manager Kate Mann.  These workshops, primarily offered in music, creative movement, and visual arts, were successful in bringing quality arts instruction to otherwise underserved populations.  RUACH also produced the successful Milwaukee Jewish Arts Festival, held at the Milwaukee Youth Arts Center in March and April of 2011.  The Festival, sponsored by the NEA, the Wisconsin Arts Board, and The Helen Bader Foundation, featured the Prometheus Trio, a chamber orchestra, and other gifted artists and speakers.  Finally, RUACH also administered Shiru La'Shem, Congregation Beth Jehudah's exciting music initiative, through one of fifteen major grants awarded nationally to a diverse group of synagogues by the Legacy Heritage Fund.
Recently and Currently
In recent years, RUACH produced the successful Project: Positive Speech (PPS).  This initiative, RUACH's third round of visual arts residencies sponsored by the Greater Milwaukee Foundation's Mary L. Nohl Fund, is one example of the kind of creative and collaborative, life skills- and Jewish value-based artistic programming that RUACH anticipates continuing to grow in the future.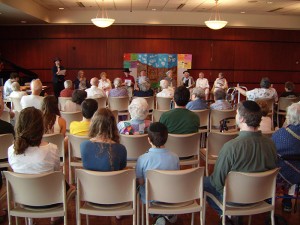 RUACH continues to maintain a strong relationship with Ovation Communities (formerly the Jewish Home and Care Center) and affiliated facilities through two regular programming series, The Rubin Sharpe Tribute Series and The Yiddish Music Series.  The Rubin Sharpe Tribute Series is designed to deliver special, supplemental, high quality programs, including concerts and music and visual arts residencies, to residents of Ovation Chai Point, Ovation Sarah Chudnow, and Ovation Jewish Home, as well as the broader community by extension. 
Performers and speakers who have participated in the Rubin Sharpe Tribute Series and related concerts, often performing Jewish-composed and Jewish-themed classical music, have included: Benjamin Adler, Jeannie Yu, Wendy Richman, Stefanie Jacob, Yaniv Dinur, Rabbi Michel and Rebbetzin Feige Twerski, Adam Margolis, Linda Siegel, Avi Gelfman, Rick Aaron, Josh Richman, Mendy Kittner, Guy Fiorentini, Megumi Kanda, Bill Helmers, Stefan Kartman, Jason McKinney, Ouri Marciano, Rick Aaron, Jamie Johns, Robert Levine, Randall Scott Ruback, Rabbi Melech Lensky, and Christopher A. Bagley.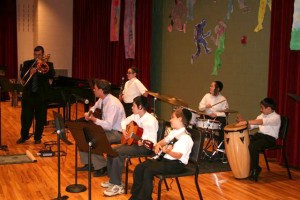 RUACH has continued to energize its relationship with YES through the production of a musical theater work, based on a Chassidic Jewish tale, for 4th-6th grade boys; drum circles for 5th-8th grade boys in collaboration with the Wisconsin Conservatory of Music; general music and art appreciation classes; a ukulele ensemble; visual arts residencies and exhibits; boys' and girls' choirs and vocal technique classes; and other opportunities.  RUACH has also produced summer programming, including drum circles and general music classes, in conjunction with the Wisconsin Conservatory of Music, at the BEST Camp in 2012, primarily for YES students.
Through Bader Philanthropies, the Greater Milwaukee Foundation's Mary L. Nohl Fund, and the Richard and Ethel Herzfeld Foundation, RUACH developed Project: VITAL (Values In The Arts & Life), an initiative which evolved from Project: Positive Speech.  Through Project: VITAL, RUACH commissions artist-educators to write lesson plans in different arts media that integrate the arts with primary Jewish yet universal values.  RUACH began implementing these lesson plans in classrooms beginning in Winter 2013-14 and continues this programming currently as part of Project: VITAL 2018.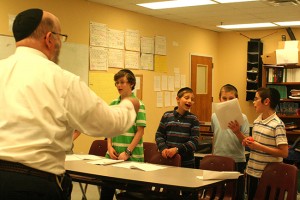 RUACH recently completed its Jewish music recorder method book, implemented in pilot programming in schools and organizations in the 2017 calendar year, and is pursuing publication.  Its videos featured on this website, entitled 'Tales That Unite and Delight,' have been viewed internationally through the Jewish educational website, chinuch.org.  
RUACH has grown to collaborate with a diverse set of organizations, including: Clarke Street School; Ovation Jewish Home's Adult Day Center; Grand Avenue Club; Ovation Chai Point; Ovation Sarah Chudnow; Kluge Elementary School; the Milwaukee Youth Arts Center; Milwaukee Youth Symphony Orchestra; The Jewish Museum Milwaukee; Deerwood Crossing, Habush House, and residences for Former Soviet Union elderly from Jewish Family Services; Ascension–St Joseph Hospital; Milwaukee Jewish Day School; Golda Meir Elementary School; Congregation Beth Jehudah; Gilda's Club of  Southeastern Wisconsin; Friendship Circle; Washington Park Senior Center; Children's Outing Association; Lake Park Synagogue; the Milwaukee Jewish Federation; Eastcastle Place; Kids Center and Camp Shemesh of The Harry and Rose Samson Family Jewish Community Center; Victory School; Kathryn T. Daniels University Preparatory Academy; 53rd Street School; Bruce-Guadalupe School; Hillel Milwaukee; Yeshiva Elementary School; Hmong American Peace Academy; Torah Academy of Milwaukee; Trowbridge Street School; Ohr HaTorah Jewish Heritage Center; Notre Dame Middle School; Bader Hillel Academy; Laurel Oaks; Wisconsin Institute for Torah Study; Montessori IB School; the Coalition for Jewish Learning; Urban Day School; ALBA School; I.D.E.A.L. School; Westside Academy II; U.S. Grant Elementary School; North Division High School; St. Johns on the Lake; and Golda Meir House.
Having grown in size and scope during its first thirteen years of existence, RUACH aspires to serve Greater Milwaukee and beyond with even more exciting and innovative creative arts programming as it continues its second decade.